Do you miss the cold weather now that you're spending the holidays in Los Angeles? You'll still be able to experience the winter tradition of ice skating at "Downtown on Ice"! Starting today, November 17, 2011, Pershing Square on 532 S Olive St will open its outdoor skating rink until January 16, 2012. Come skate under the sun and stars in Downtown Los Angeles!
The outdoor skating rink will be open for its 14th year in the heart of Downtown Los Angeles, framed by skyscrapers and festive holiday lights. At only $8 including skate rental, "Downtown on Ice" offers the most affordable ice skating experience in Los Angeles, thanks to the City of Los Angeles Department of Recreation and Parks and Councilmember Jan Perry.
From November 17 to December 18, the rink will be open from 12-9pm Monday through Thursday and 10am-10pm Friday through Saturday. From December 18 to January 11, the rink will be open from 10am-10pm every day. Admission and skate rental is only $8 for one hour in the 4500 square foot real-ice rink in Pershing Square alongside the Biltmore Hotel. Each skate session is followed by 30 minutes of ice resurfacing. Underground parking is available for $6 before 5pm Monday to Thursday and $5 after 5pm with skating validation, but there are also cheaper parking options nearby. Weekend parking is $5 all day, or you can take the Metro Red Line from Hollywood and receive $1 off skating admission with a Metro ticket or coupon. The rink also provides lockers for 75 cents so you can store your valuables while skating.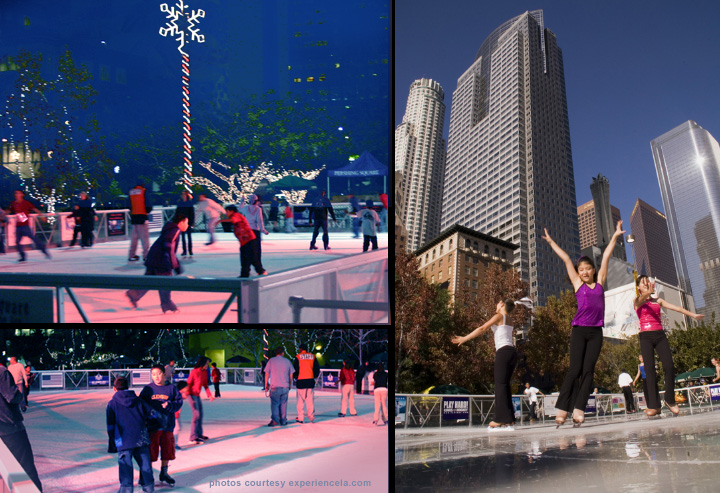 Every year, guests are invited to enjoy skating along with special events throughout the holiday season including a festival, skating exhibitions, a winter concert series, live telecasts, broomball games, fundraisers and much more. Talk shows "Today Show," "Ellen" and "The Tonight Show" have all featured this festive holiday event.
The Winter Holiday Festival will take place December 10 from 11am to 7pm. Lunchtime concerts will be held December 19-23, December 26-30 and January 1-6. Evening concerts will be held December 10-23. An estimated 350,000 guests attend "Downtown on Ice" every year. Come join in the fun this year on the skating rink!