Those who are staying in hotels near Pantages Theatre in March can experience the culture of another country at the Los Angeles St. David's Day Festival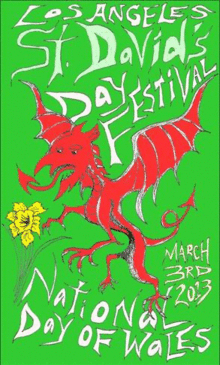 on Sunday, March 3. The festival will be a celebration of the National Day of Wales at Barnsdall Art Park. Welsh harpist and singer Siobhan Owen will be making her North American debut by headlining the festival.
Owen is an enchanting performer who was born in North Wales to a Welsh father and Irish mother. She moved to Australia when she was young and was classically trained from the age of 9. She has a haunting soprano voice that she uses to sing traditional Celtic songs. She has received prestigious awards for performing at concerts, festivals, recitals and many more. Owen released her fourth studio album, entitled "Storybook Journey" recently.
On Sunday, Owen will perform along with Paul Child, a returning veteran of the festival. Child is the biggest independent selling artist of Wales, the "Official Voice of Welsh Rugby" and recently sang at the half time show of the final match of the Wales Rugby Grand Slam. There will also be a special performance by the Welsh Choir of Southern California.
Outside the concert, there will be a free Celtic Marketplace, Welsh language classes taught by Jason Shepherd of the Learn Welsh Podcast, Celtic workshops, demonstrations with Welsh Corgi dogs, kids crafts at the Ogden Nash Children's Area and more! The LA Eisteddfod will perform storytelling, readings, and performance at the Harold Lloyd Outdoor Stage. Welsh food will be served all day, and artists from both Wales and U.S. will be promoted at the festival. In the past, over 2000 people have attended the festival to celebrate the history and accomplishments of Welsh-Americans.
Hope you get a chance to check out the festival this weekend!
Event Details
Date: March 3, 2013
Times: 10am to 5pm
Location: Barnsdall Park
4800 Hollywood Blvd.
Los Angeles, CA 90027
Admission: $15-$25
For more information, please visit www.lorinrichards.com/aravenabovepress.html.